Krissy and Ben made it official at the Cottesloe Civic Centre while overlooking the Indian Ocean, and it was quite a day to remember. These guys were all about having fun and we definitely did. Check out all the pics and their little interview below
Tell us about how you met? Were there any funny first date stories?

Like a lot of modern day love stories, our story started when I (Krissy) swiped right on Tinder. It became clear early on, we shared many mutual friends, which as a result, led to both of us receiving inside information about each other before our first date. Generally, we were both warned we may not be not be the right fit for each other due to our history. However despite this, we went on our first date at the Shorehouse.

I thought the first date went well. We both loved red wine, dogs and Pringles. Ben wasn't too convinced. I was yawning through majority of the date, and I tripped over my dress as I ran into the Uber, leaving before Ben could go in for the first kiss. Ben even called one of his friends believing there was no chance of a second date.

It turns out Ben was wrong and after a few more messages, a second date down the beach followed. It was here where we shared our first kiss.
Question 3 – How did he propose to you?

The proposal story started off when we embarked on our first overseas holiday together. Denmark and Norway were on the cards. The plan – Ben was to meet my (Krissy's) family in Denmark, then off to Norway to see the Northern Lights where Ben planned to propose. Looking at the weather forecast for Norway in Denmark it looked like Ben had to change his plan due to the overcast cloudy conditions.

Conveniently that day we went for a walk in a forest just outside of Copenhagen near where we were staying. It was then that the snow started to fall lightly and I said to Ben how perfect is this? This was a light bulb moment for Ben. When we got back to the house Ben went through his camera and told me that all the photos they took at the forest didn't work out. They had to go back. Ben now had picked the ring up from home and it was going to happen. We walked back into the forest where Ben dropped to a knee on the snow. After I threw around a few choice swear words, I realized Ben, the typical joker, was actually being serious for once. I then yelled yes in the forest.
Question 4 – In a few sentences, how would you describe your wedding day? Was there a particular vibe or theme you went for?

Our wedding was the most perfect day. We wanted to bring our two families and friends together in a fun and relaxed environment and this was exactly what we got!
Question 5 – What's your favourite detail from the day?

Our favourite detail from the day was definitely the speeches. They were so genuine and heartfelt, yet funny at the same time.
Question 6 – What about your favourite moment?

The ceremony was definitely our favourite moment. The first time we locked eyes is a moment we will never forget. The nerves disappeared, and excitement and happiness took over!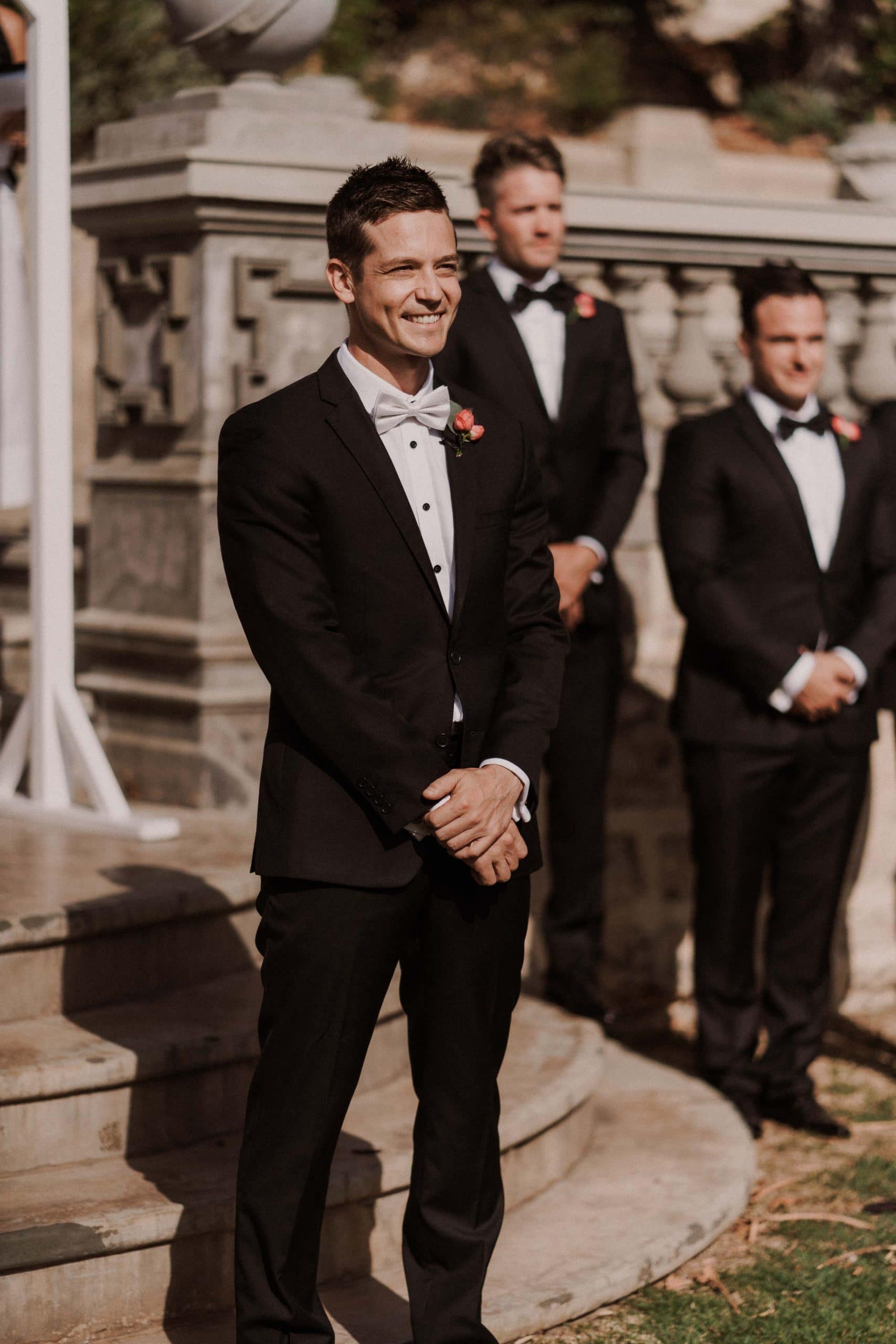 Question 7  – How did you decide on your venue?

As both of us love being outdoors, we wanted our ceremony and reception venue to carry a similar vibe. The scenery at both was amazing. And off course, the ceremony location had to be dog friendly as our little man – Bruce – was going to be the star of the show. The ring bearer.
Question 8 – Do you remember any funny stories in the planning stage or on the day itself?

There are two favourite moments which stick out of us!
1 – Ben had organized all the groomsman socks to have my (Krissy's face on it). This was both hilarious and weird at the same time!
2 – One of the groomsman was so passionate about his dance moves, his pants ripped wide open in the process.
Question 9 – If you were to do it again, what would do you differently?

If we were to do it again, (as much as we loved spending time with all of our guests), we put too much pressure on ourselves to say thank you to everyone. As a result, we didn't spend much time together just enjoying our special day. The day passed so quickly.
Question 10 – Any advice you would give to other couples planning their wedding?

If there are two points of advice we would give other couples, its to
1 – don't put too much pressure on yourselves during the planning stage. Although it may seem overwhelming at times, and there may be a few, or a lot of disagreements. It all works out on the day and it turns out to be the most amazing / special day. Even if things don't turn out perfectly.
2- Make sure to have multiple moments together – just you two. The day passes by so quickly, and it is important to treasure this day with your loved one. Don't put pressure on yourselves to thank everyone individually. That is what the speeches are for!
Krissy + Ben worked with:
Celebrant – Hitched by Kate
Reception Venue — South of Perth Yacht Club
Florals — The Flour Shop
Decor —South of Perth Yacht Club
Lighting — South of Perth Yacht Club/Festoon Lighting Perth
Cake — Hannah Bakes Cakes
Video – Zaneta Van Zyl
Hair — Milena Milio Hair and Makeup Studio
Makeup – Jess Rodin
Dress – Karen Willis Holmes
Suit – Penguins Formal Wear
Rings — Creations Jewellery