The South of Perth Yacht Club has to be one of my favourite wedding venues in Perth.
Michelle and Vedran glammed up their special day with some of their best friends and family, and made it a day to remember for a long time.
Tell us about how you met?
We've actually known each other for 12 years, and we first met through mutual friends. Over the years we would bump into each other occasionally, but it wasn't until 6 years ago that we started running in the same social circles. We spent a year just hanging out as friends before we started dating. 
How did the proposal go?
It happened on our first trip together to Europe. We were staying in Lake Como, Italy – one of the most beautiful places you will ever see – and is well known  for Villa Oleandra, George Clooney's summer residence. Vedran hired a boat (with no license mind you!) and we spent the afternoon exploring the lake. Half way around we stopped in front of the Clooney residence, I turn to take some photos, and when I turned back around Vedran is down on one knee holding out a ring and asks me to marry him! 
In a few sentences, how would you describe your wedding day?
We feel it was a mix of culture and tradition, with a modern twist! We wanted to incorporate the essence of Serbian culture in a way that encouraged those who may not be familiar with the customs to get amongst it! It was very loud and so much fun, a total vibe!
Was there a particular vibe or theme you went for?
The most important thing to us was for the day to be a true reflection of who we are as a couple and let our energy and love for each other create the vibe! Weddings are a serious deal, but it's also one big party. At the end of the day everyone is there to celebrate your union – what more do you need?!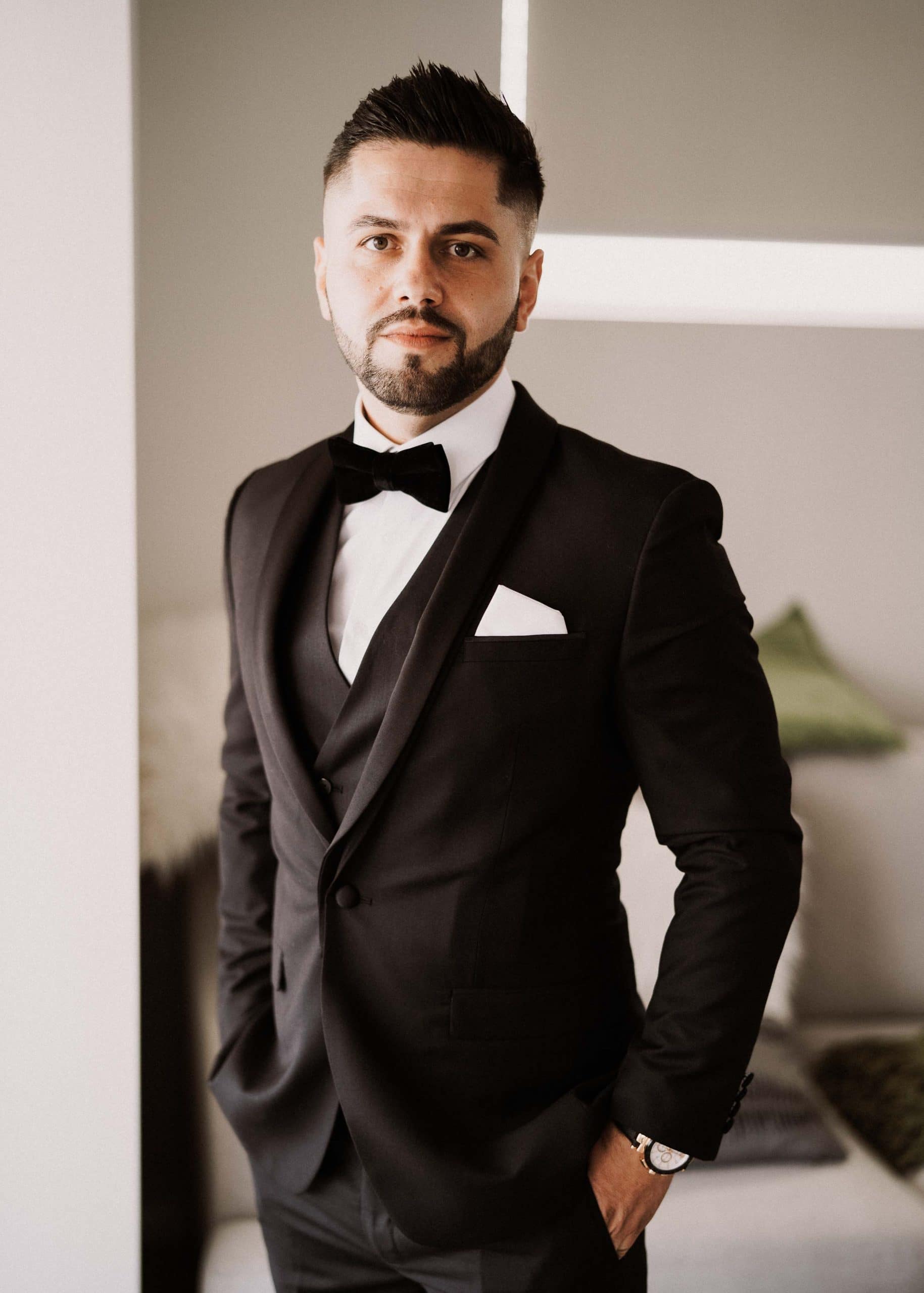 What's your favourite detail from the day?
Walking into the reception and seeing all of our hard work come to fruition! We dedicated a lot of time and energy into planning a day that not only we enjoyed, but all our friends and family enjoyed too. We had an idea of what it would look like, but to see how it all came together in real life was magical. 
What about your favourite moment?
It's impossible to single out one!
Walking out of the limo to be greeted by all our friends and family! We went straight into the Kolo (a traditional Serbian dance) and everyone got involved, that just set the tone for the evening!
Oh and our first dance was everything! Our song came on and it was like we were the only ones there, totally absorbed in the moment, it's something we'll keep with us forever.
How did you decide on your venue?
The venue was the easiest decision of the whole planning process. We wanted something elegant but not too formal at the same time. The view of the city from South Perth is amazing, especially at sun set and after the first viewing of the marquee we booked it straight away. 
If you were to do it again, what would do you differently?
The little things that didn't go exactly to plan were not things we could have predicted, so as cliche as it sounds.. absolutely nothing! 
Any advice you would give to other couples planning their wedding?
*Allow yourself enough time for planning; It's a massive task, especially if you don't have a stylist and you are organising everything on your own like we did!
*Be kind to yourself and your partner. The process is stressful at times and although you may have disagreements, it's better to compromise than argue! If it gets overwhelming, take a break and go back to it another day.
*Do your best to be practical, accept the possibility of some things not going exactly to plan. There is so much pressure for your wedding day to be perfect but if you approach it with a realistic attitude it will alleviate a lot of stress, allowing you to relax & enjoy the day to its fullest! 
Michelle + Vedran worked with:
Reception Venue — South of Perth Yacht Club
Florals — Signature Floral Design
Decor —Black Label Events / The Tailored Table
Lighting — Reece's Event Hire
Cake — The Cake & I
Hair — Rachel Marie Hair Artistry
Makeup – Rachel Parker MUA
Dress — Berta Bridal / L'Fay Bridal NYC
Suit – Politix
Rings — Stelios Jewellers